Meredith Stoudenmire est une artiste contemporaine basée à Greenville, en Caroline du Sud, aux Etats-Unis. Ses peintures sont axées sur l'aventure, les volcans et l'enfance.
Meredith Stoudenmire is a contemporary artist based in Greenville South Carolina, United States. Her paintings focus on adventure, volcanoes and  childhood.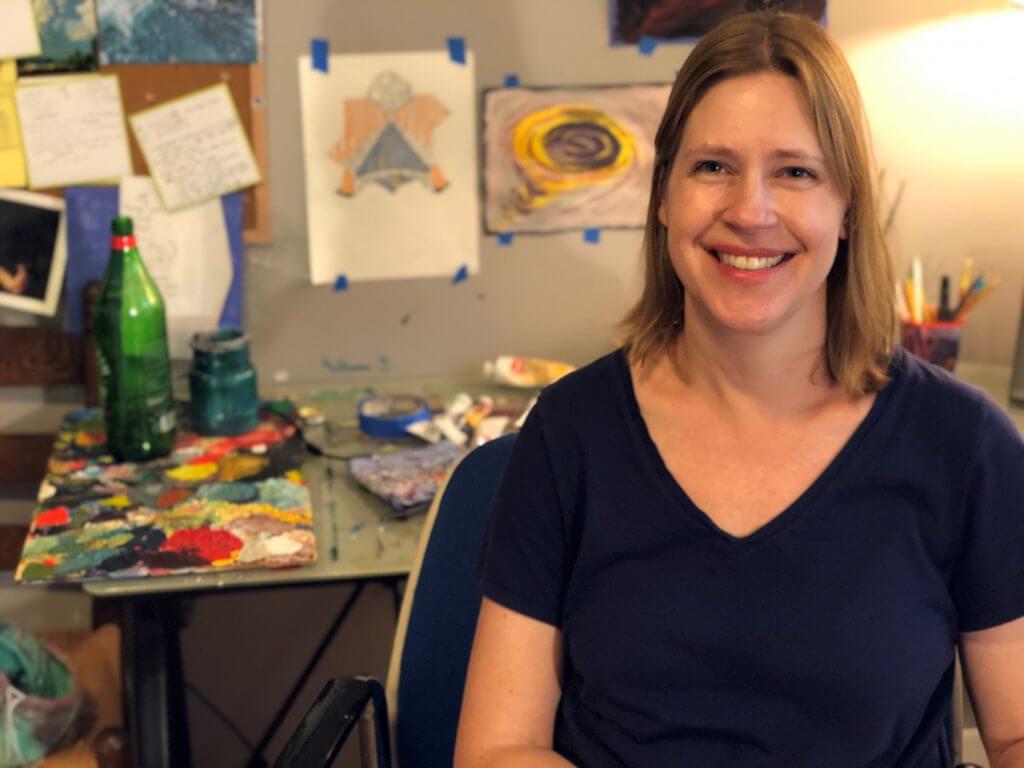 Bonjour Meredith,
Hello Meredith,
 Comment faites-vous le lien entre les volcans et les enfants ? /

How do you link volcanoes and children?
Je suppose que mon travail a toujours consisté à être courageuse dans l'aventure de la vie. Quand j'avais une vingtaine d'années, je faisais des peintures sur mon propre cheminement. Il y avait toutes ces images de moi comme piégé dans la chambre magmatique souterraine attendant d'exploser. Mais maintenant que j'ai des enfants en bas âges, je les regarde prendre des décisions et essayer des choses et c'est tellement excitant – prendre des risques et foncer ! Les enfants dans mon art sont sur le chemin de la vérité et de la découverte d'eux-mêmes. Le volcan a la sagesse et les réponses qu'ils recherchent.
I guess my work has always been about being brave on life's adventure. When I was in my 20s, I made paintings about my own journey so there were all these images of me trapped inside of the magma chamber underground, waiting to explode. But having small children now, I watch them make decisions and try things and it's so exciting- taking risks and going for it! The children in my art are on a path to truth and finding themselves. The volcano has the wisdom and answers they seek.
Vous êtes diplômée en beaux-arts, mais vous aviez aussi des cours de géologie. Quand avez-vous commencé à vous intéresser à ces deux sujets ? /

You graduated in Fine Arts but you also had geology classes. So, when did your interest in both subject started?
J'ai commencé dans une grande université, mais j'ai par la suite évolué dans une école d'art à Atlanta. J'ai toujours voulu être une artiste. Mais tout ce qu'on étudie en géologie est fascinant et beau – surtout l'apprentissage du mouvement et de la collision des plaques. C'est un symbole parfait du temps qui passe et le voyage de la vie.
I started at a large University, but then transferred to an art school in Atlanta- I always wanted to be an artist. But everything you study in Geology is fascinating and beautiful- especially learning about the plates moving and colliding. It's a perfect symbol for time passing and the journey of life.
Pouvez-vous nous expliquer ce que sont les techniques de l'estampe ? Est-ce une technique que vous utilisez dans vos peintures ? Quel est votre procédé pour peindre ? /

Could you explain what is printmaking? Is it the technique that you use in your paintings? What is your process for painting?
Les techniques de l'estampe consistent à imprimer des images sur du papier à partir de plaques ou de blocs. J'adorais cette discipline à l'université car elle est étroitement liée au dessin. Mais cela nécessite un équipement spécial en studio qui peut être très coûteux, donc j'ai surtout fait de la peinture depuis que j'ai obtenu mon diplôme.
Mon procédé pour peindre est assez simple. Je commence par des photos que j'ai prises de mes enfants et aussi des images de volcans d'internet (je suis toujours à la recherche de belles photos de volcans !). Je dessine le design sur la toile avec un crayon, puis je fais une « sous-peinture » qui consiste simplement à mettre de la couleur dans le dessin pour être sûre que la composition fonctionne. Puis je commence à peindre !
Printmaking is where you're printing images onto paper from plates or blocks. I loved it in college because it has a close connection to drawing. But it requires special equipment in the studio that can be expensive, so I have mostly done painting since I graduated.
My process for painting is pretty simple. I start with photos I've taken of my kids and also images of volcanos from the internet (I'm always looking for good volcano pictures!). I draw the design onto the canvas with a pencil and then do an "under-painting" which is really just putting color down within the drawing to make sure the composition works. Then I start painting!
 Parlons de volcans. Quels sont les volcans que vous aimeriez visiter ? /

Let's talk about volcanoes. Which volcanoes would you like to visit?
Je n'en ai pas vu beaucoup dans la vie réelle. J'ai été à Yellowstone et au Mont Rainier qui étaient tous les deux incroyables. J'aimerais aller à Hawaï dans les prochaines années. J'adore l'aspect du Mont Fuji – j'ai beaucoup étudié l'impression sur bois japonais à l'université, donc cela a probablement débuté là. Peut-être qu'un jour, je pourrai participer à l'une de vos excursions !
I haven't seen many in real life. I've been to Yellowstone and Mt. Rainier which were both amazing. I'd like to go to Hawaii in the next few years. I love how Mt Fuji looks- I studied a lot of Japanese wood block printing in college, so it probably started there. Maybe I'll be able to go on one of your tours one day!
Merci beaucoup pour vos réponses très intéressantes.
Thank you for your interesting answers.
Retrouvez toutes ses peintures sur son compte instagram  volcanoanswers et son site web 
You can see her paintings on her instagram account volcanoanswers and on her website 
Pour découvrir toutes nos interviews, cliquez-ici